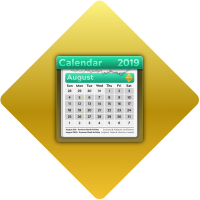 Xestia Calendar
Xestia Calendar is a native CalDAV (RFC4791) calendar client which uses iCalendar 2.0 (RFC5545) with search, reminders and detailed calendar entry management. Written in C++ using wxWidgets and cURL.
Download
The current version of Xestia Calendar is version 0.08.
Please be aware that this version DOES NOT support CalDAV. This is a version to show that the interface has been implemented using local accounts.
View releases on Xestia Gelforn
Documentation
Documentation will be implemented in a future version of Xestia Calendar.
Gelforn
Visit Xestia Calendar's Gelforn page to report bugs, requests for new features and previous releases. Reporting bugs and requesting new features will require an account.
Xestia Calendar on Gelforn